Ketika saya mengikuti seminar blogilicious, saya mengerti betapa pentingnya social network, seperti facebook dan twitter terhadap trafic dari blog kita. Kali ini saya akan berbagi bagaimana caranya untuk
mengimpor
feed
ke dalam bentuk catatan di facebook. Cara ini dikhususkan bagi teman-teman yang belum membuat halaman
page khusus
untuk blognya. Berikut ini caranya :
LG Optimus GT540 Unlocked GSM Quad-Band Phone with 3 MP Camera, Android OS, Touchscreen, Wi-Fi, and Bluetooth--No Warranty (Black)
1 login ke facebook masing-masing
2 buka link di bawah ini
3 akan muncul halaman seperti ini, dan kita hanya perlu memasukkan feed kita masing-masing.
4 lakukan konfirmasi pengiriman, jika artikel blog kita sudah benar-benar masuk. Lihat gambar di bawah ini ya
5 hasilnya, artikel otomatis akan terimport ke catatan dari facebook kita, seperti gambar di bawah ini. Kelihatan kan facebook saya, yang mau add juga boleh.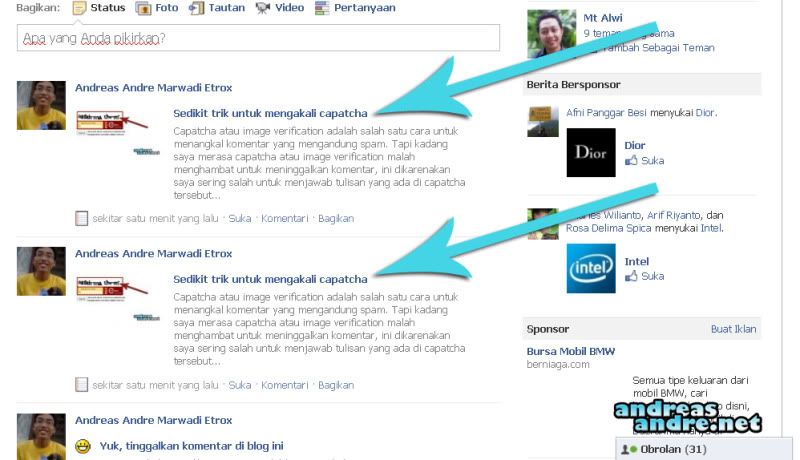 Itu langkah-langkah untuk mengimpor artikel kita ke facebook. Oya untuk berhentimengimpor kita hanya perlu masuk link tadi dan berhenti melakukan import artikel.

Keuntungan cara ini adalah setiap kali kita meng-update blog kita, otomatis facebook akan mengimport isi tulisan ke catatan di facebook. Sebenarnya ada cara yang lebih efesien dengan menggunakan twitterfeed dan RSS grafiti.
Semoga sedikit tips kali ini membantu teman-teman.. jangan lupa dishare ya